Back when I was in Toastmasters, I tried to write a humorous speech. It was remarkably difficult, especially considering how often I made people laugh when I was giving other speeches. In fact, making people laugh felt great, and I wanted to do it more. But I never wrote funny things into my speeches. They always came out spur of the moment, based on intuition and impulse. Trying to be funny on purpose, ahead of time, felt contrived and uncomfortable.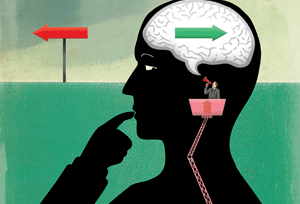 Even though I made people laugh every time I gave a speech, I never quite trusted that I could do it again. I figured that my next speech would just be serious, since it was hard to write in humor.  Somehow humor came to me each time – and I often couldn't remember what I said afterwards.
Our society doesn't really trust intuition. It's not something that can be submitted to double-blind scientific studies. We can't control it, master it, subdue it, or sell it. People who believe in logic don't trust intuition, or feelings, or gut reactions. I learned to make decisions based on facts and logical thinking. And yet… here was something that defied logic and thinking. It was what gave my speeches something worth listening to.
I learned to trust that humor might show up in my speeches, but it wasn't the end of the world if it didn't. Trusting to intuition for my business – that was something else entirely. I mean, if my speech was serious, that was fine. But choosing the wrong path in business could end up costing me money and time and energy and reputation. That was serious stuff! I'd better stick to logic, and plans, and expert advice.
And yet… Somehow my intuition is still operating, even though I ignore it a lot of the time. I find myself making choices based on gut instinct, a feeling of certainty that THIS is what I should be doing now. I feel embarrassed to admit it, really, since I don't have an expert advising me or studies showing me what to do. But it's hard to argue with a deep feeling of alignment and certainty! I don't have any logical reasons NOT to do it, and clearly I WANT to do it, so why not give it a try?
When I take a step back, I realize that my success as a facilitator, coach, mentor, mediator, leader, consultant, and friend is based on that gut reaction. What I say, how I say it, and to whom, is all dictated by my instinct that this person wants a direct approach, that person wants something softer. My instinct is operating during every conversation, every interaction, every situation. It's just that when I'm in the flow of it, I don't stop to think about how I'm getting my ideas or why I'm saying what I'm saying. I just do it.
(I think this is why my writing isn't as funny as my conversations or speeches. It's not as much in the moment, it's slowed down to get the words out my fingers onto the keys, so I don't end up as much in the flow. When I'm not sure what to say next I can pause and think, rather than blurting something out, or waiting for someone else to talk and spark another idea. I'm a little disappointed about that, but it just means you need to come see me in person!)
How does your intuition work for you? And how do you get yourself into the flow, so that you stop thinking and just do?