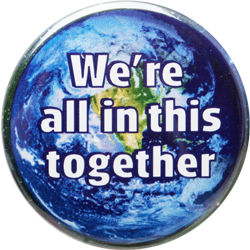 I was talking to my husband about what he wants in a team. He's worked in a number of companies, with a number of different teams, and I was wondering what he'd say. The first thing he said was he wants team members who are professional – and one of the points he made was that professionals care more about the success of the project than they do about benefiting themselves.
I think this is an interesting, important, and often overlooked piece of working in teams. People often want their ideas to be implemented without any change, because they like their ideas and want to be The One With The Ideas. Or, they want recognition, or praise, or a promotion, for what they contribute, so they want their contributions to be separate and recognizable. This is human nature – there's nothing wrong with it! The only problem comes when the desire for recognition or power comes before the good of the project.
Part of the benefit of working in teams is that a good idea can become better when many people share their perspectives. A good recipe blends the ingredients, and relies on all of them to make the food taste good, without any one standing out. If the rosemary says it won't cooperate unless the sage withdraws its contribution, everyone loses. A good team with a supportive leader will recognize all the flavors, not just the ones that stand out, and the individuals will all feel like they contributed to something amazing, and larger than anything they could do alone.
I actually like to take this approach to life in general, not just work. We're all in this life together. We could step on each other to try to get ahead, but then we end up with a lot of hurt and anger. Why not support each other along the way? Why not treat life like a project we are all trying to make better, without individual egos getting in the way? It feels good to help others, and it feels like a relief when others help us. There's something very powerful about knowing that everyone on the team has each others' backs.
The idea of having another person's back is an interesting one. It makes me think about that moment in a meeting when you have to choose whether to speak up or not. Have you ever been in this situation: you talked with your friend at work about a new idea. Your friend spoke up in a meeting about the new idea, and the boss shot it down. What do you do? For most of us, the survival instinct says don't challenge the alpha. It's not worth it to align ourselves with a sinking ship. But then, will your friend trust you? If you still think it's a good idea, will you say so? It takes courage to speak up when you know the boss is against the idea in order to back up your friend. Really, it's also backing up yourself and your ideas, but it's also threatening a sense of survival and safety.
This is why I help teams create safe spaces to speak up. I don't want anyone to feel like they will get shot down for speaking up. I want to help groups decide together whether an idea is worth following without making anyone feel stupid, or unsafe, or unworthy. For the project to be the focus, not the worth of the humans who have the ideas.That's one reason I use LEGO® bricks in my workshops – it puts the focus on the ideas as modeled in LEGO®, rather than on the person who built it. People aren't trying to solve people any more.
What do you look for in your teams?